We first met songstress TEYANA TAYLOR when she starred on Season 4 of the MTV's My Super Sweet 16. Her 2007 appearance became an instant classic with her extravagant party and her over the top NYC Barbie entrance. Her career was stagnated since her debut in 2007. She was signed then dropped by Pharrell. Many (including myself) were left asking, WHAT DOES SHE DO? That all changed when Taylor crossed paths with KANYE WEST, who was in the midst of his MY BEAUTIFUL DARK TWISTED FANTASY ERA.
"He started playing his album and I start humming and doing some little runs to what I'm hearing on the sly tip," Taylor told Complex in 2012. "So he hears me and is like, 'You can really sing!'"
Taylor was asked to do background vocals for his 2010 album and took her under his wing officially in 2012 as West began focusing on G.O.O.D. Music.
Fast forward to 2014, Taylor releases 'VII' which hit No. 1 on Billboard's Top R&B/Hip-Hop Albums chart. The album spawned the hit 'MAYBE' FEATURING PUSHA T & YO GOTTI.
2016 had been a comeback year for Taylor. Taylor first reappeared at VH1'S HIP HOP HONORS TRIBUTE to LIL KIM. The performance made it look like it was a role she was born to play. She slayed down in honor of the Queen Bee.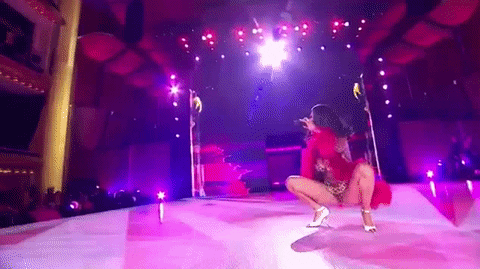 At the 2016 MTV VIDEO MUSIC AWARDS, West dropped his new video 'FADE' feautring Taylor as the star of the video.
The video featured Taylor in a a white crop top, blue thong and knee pads and dancing in front of workout equipment. After an epic twerk finale to her dance routine, she's suddenly in the shower her real-life fiance, Iman Shumpert of the Cleveland Cavaliers. The final shot of Taylor, Shumpert with feline features and their adorable new born, Iman Tayla Shumpert, Jr. 
Since the video's premiere in late August, Taylor has been featured on 'THE WENDY WILLIAMS SHOW', covers of magazines and been scattered all across the blogs for her amazing dance moves and that killer body.
"Dance is my form of exercise. That's literally all I do. There's no running. There's nothing special. Just dance. I really think that people underestimate [the art form] as a workout. And it's done my body good," she explains. "I toured until I was about four months pregnant. Probably almost halfway through my [gestation], I stopped dancing and took a break to have Junie."
SO WHAT'S NEXT FOR TAYLOR POST- FADE VIDEO?
Taylor was recently interviewed by 'W' MAGAZINE on what's next for her career. "Yeah, I've definitely been in the studio. GOOD Music just opened a compound in Los Angeles, so they let all of us just go in and vibe. I've been laying down a lot of different ideas and trying to figure out what I'm feeling musically and where I want to go musically. I'll be dropping something really soon. I've got some big stuff in the works."
UNTIL THEN WE WILL CONTINUE TO LIVE FOR TEYANA TAYLOR'S RESURGANCE.