American Horror Story: Roanoke held back very little in Chapter 2 of the FX series. 
As per usual, AHS: Roanoke's latest installment had me texting my pastor and asking for guidance. This week featured Sarah Paulson's Character SHELBY making very Caucasian decisions as she searches for reasons to leave her haunted house. Something told me to get her 'I Survived'  seasons 1 – 7 on DVD for a housewarming gift.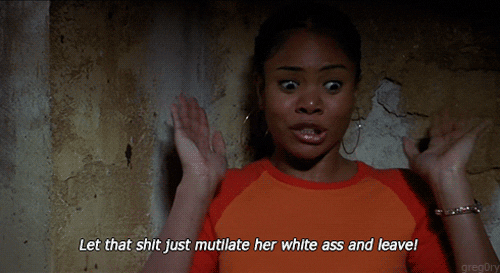 DENIS O'HARE also makes the best entrance giving us vintage acting as on he can.
This season is shaping up to be one that will make us rethink living out in the woods for the tranquility. SMH
TWITTER FELT A WAY ABOUT THIS LOADED EPISODE OF AHS
This sacrifice. Fix it, Jesus.

— Non Secatur (@ithinkmark) September 22, 2016
me a week ago: "maybe they'll play the theme song next week"#AHS6 : pic.twitter.com/DjIMpFOFXA

— will.je.suis (@LUCYFERSINCLAIR) September 22, 2016
When you're in a possessed farmhouse maybe your child's imaginary friend is an evil demon. Just saying. #AHS6 pic.twitter.com/WWqnaptRZy

— Lauren M. Reich (@LaurenMReich) September 22, 2016
"She's going to kill us all. And save me for last." UM HOLY HELL. #AHS6 #AHS pic.twitter.com/XRreGQoUOY

— Kamrun (@kamrunnesa) September 22, 2016
Even with all its flaws, this is still the scariest #AHS season since murder house. Bloody face who? #AHSRoanoke pic.twitter.com/Qg2jEAP7g2

— ethan 🏳️‍🌈 (@thebeachb0y) September 22, 2016
No she didn't bring that baby back to that house knowing all that crazy activity going on #ahs6 #ahs pic.twitter.com/vPcOCNHIbm

— shyfacediva (@shyfacediva) September 22, 2016
HOW DID CHAPTER 2 OF AHS: ROANOKE MAKE YOU FEEL?
AMERICAN HORROR STORY: ROANOKE AIRS ON WEDNESDAYS ON FOX.